The energy transformation starts with the right planning.
We develop and construct your buildings, plan your projects and manage your properties.
The energy transformation starts with the right planning We develop and construct your buildings, plan your projects and manage your properties. Modern telecommunication, progressive traffic systems and optimised energy distribution require an efficient infrastructure – and we would be happy to plan it for you. Our engineering forms the basis of all these projects and provides you with security, because we invest in the latest software and the professional development of our employees. Furthermore, we continuously optimise our ongoing processes.
Nearly 100 technical staff members are involved in planning and structural design tasks, assembly procedures, feasibility studies and routing, real estate management, budgeting, project development and processes, alternative concepts and engineering services – in all stages, at multiple locations and across national borders.
Why not trust us with your projects?
Thoughtful line planning for your project
Static engineering and construction from a single source
We perform your property management
Professional work with proprietary software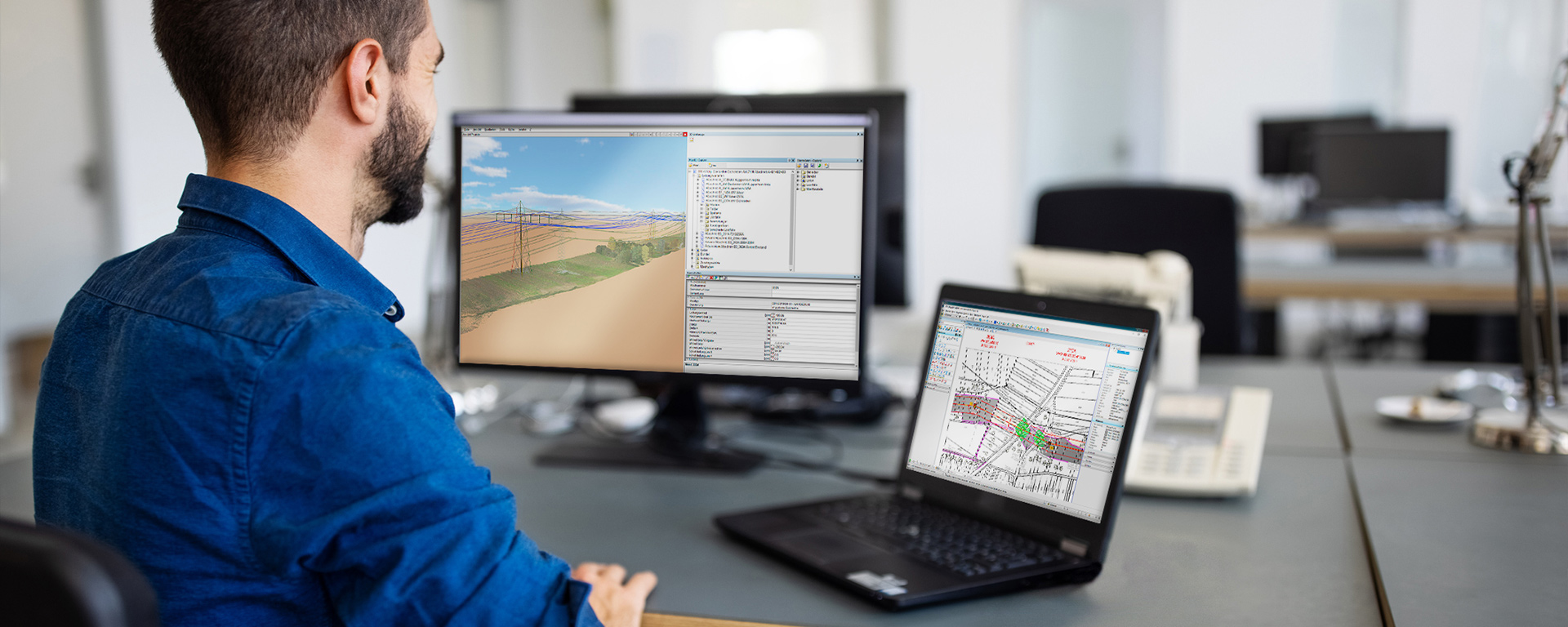 Thoughtful line planning for your project
Are you expanding or upgrading your line network? Our experienced team in planning, drawing and measuring will accompany and support you in all stages. We will work for you in regional planning, planning approval, implementation planning or for building implementation and auditing. We will be at your side during construction as well as during the preparation of explanatory reports or discussion meetings and information events for citizens.
Our services are tailored specifically to your needs and projects. You can further benefit from our additional expertise in the following areas:
Comprehensive routing services for new and existing networks
Cable mechanics calculations for all cable types, including high-temperature conductors
Calculations for interference and emmissions control
Preparation of profile, site, ownership and access plans, forest impact plans, and plans for ecological route management
Comprehensive development portfolio, e.g. mast types and the associated mast type diagrams, diagonal profiles, mast site sketches, concepts for steep connections and transposition, phase routing or conductor sequence plans
3D visualisation
Incorporation of all essential information in the GIS
Surveying work of all types
Technical support during construction

Static engineering and construction from a single source
Our experienced structural engineers and designers are eager to meet your challenge. We would be happy to provide you with expert support in all matters pertaining to structural engineering and construction. Whether condition assessment or static recalculation, rehabilitation concepts or new development of linkages – our engineering offers a full portfolio.
Some examples from our service offering:
Development of overhead line frames and specials masts as well as mobile telecommunications towers and antenna fixtures
Static recalculation of existing masts including plans for their rehabilitation
Full probabilistic investigation of masts and their foundations
Individual solutions for special areas as well as standard and special foundations
Development and design of temporary interference structures and gantries
Workshop drawings in 2D and 3D
Planning of formwork and reinforcements as well as anchoring and rehabilitation concepts
Technical support during construction
Complete welding monitoring and non-destructive magnetic particle testing
Feasibility and comparative studies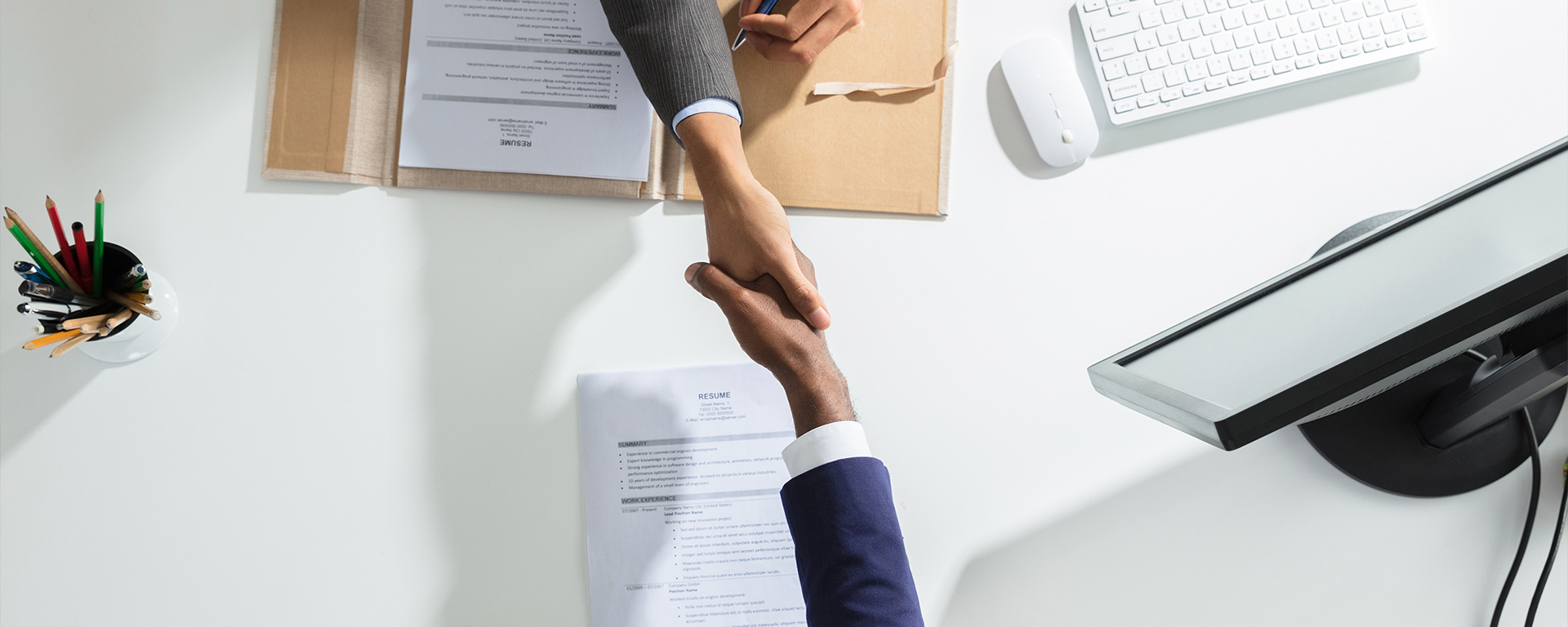 We perform your property management
Will your project impact any third parties? EQOS Energie will handle all relations with local authorities as well as negotiations with the parties concerned. This includes obtaining approvals from authorities and institutions, permit applications and support up to the entry in the land register. Furthermore, it includes the research concerning parcels, ownership, lease and use as well as summonable addresses and the entire contractual handling.
Moreover, we support you in some of the following areas:
Preparation of permit applications pursuant to Section 9 of the German Land Register Adjustment Act (Grundbuchbereinigungsgesetz, GBBerG)
Survey of land register data up to Section II
Determination of compensation amounts as well as rights of affected third parties and customers' rights
Preparation of contractual documents such as easement, compensation, and building permit
Negotiations with owners and tenants
Structuring of the returns from certifications and registration notifications
Subsoil management and access route planning
Crop damage settlement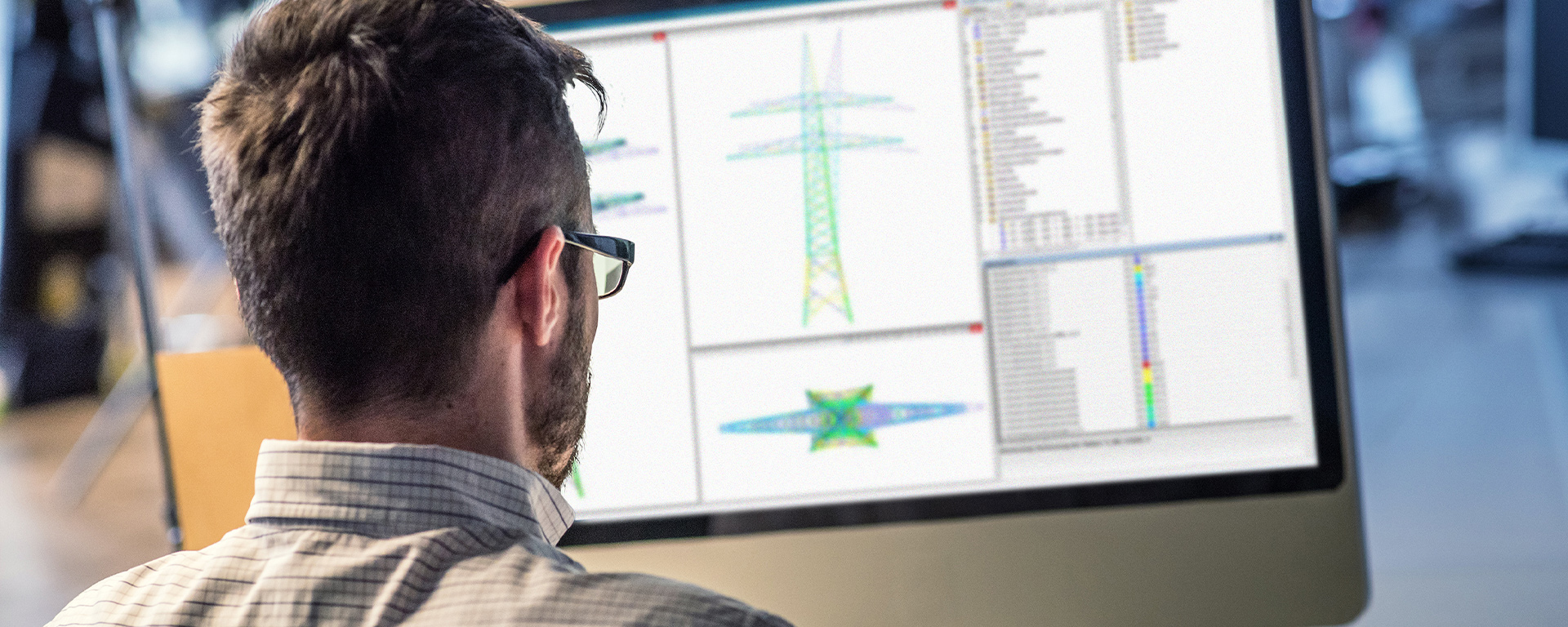 Professional work with proprietary software
Complex projects have very specific requirements. In order to be able to provide you with the best result, we work with software designed by our own application developers. Are you aware of our structural engineering program Turrix, which we make commercially available? In addition, we internally use the FIMS3application for planning cable runs and the DIMSdatabase for owner negotiations. We are also currently working on the 3D design programme CREST.
Turrix
You can use the efficient structural engineering program Turrix to reproduce all input in 3D view. By tilting, rotating or zooming, every spot of the system can be displayed precisely. In addition, control of the overall system as well as the bending line view are possible in 3D.
Our service plus with Turrix for you:
Improved control based on 3D view of all input
Quick editing and subsequent modification of masts is possible
Load generation of add-on parts such as mobile telecommunications systems and in accordance with DIN EN 504341 and Niemann
Fast computational core
Dimensioning according to DIN EN 50341
Flexible generation of the output document
Creation of the system drawing in .dxf format
Dimensioning of corner leg reinforcements
Calculation of the envelope curve diagram of the weight spans as a function of the line angles
Control of electrical distances
Reconciliation of structural conditions such as rehabilitations
FIMS3
With FIMS3, we have the perfect overview when planning cable runs. Thanks to an excellent visual control of the inputs, it is easy for us to plan multiple line sections or alternative line variants. All rope mechanical calculations are possible with both laser and vectorised data.
Our service plus with FIMS3 for you:
Facilitates simple visual input control
Comprehensive determination of distances such as internal distances and distances to parallel lines, radio relay links and wind turbines
Creation of profile and site plans as well as diagonal profiles as a .dxf file
Support of exact mast geometries for internal spacing and visualisation
Calculation of vegetation height lines
Many interfaces to commercially available programmes available
Comprehensive outputs as PDF files
CREST
Our 3D design programme CREST is currently still under development. In the future, it will facilitate the preparation of construction drawings by making collisions of profiles, sheets and screws more visible through the 3D representation. In addition, the programme also creates 2D derivations and parts lists.
Our performance plus with CREST for you:
Import of geometries and static specifications
Parametric generation of connections
Good visual control
2D derivation with flexible options
Generation of parts lists
DIMS
The database-based application DIMS allows us to manage affected parcels, compensation and easements for new construction and dismantling of overhead lines. In addition to the output of land acquisition lists and various evaluations, we handle all correspondence with owners and other institutions via DIMS.
Our service plus with DIMS for you:
Import of parcels, boundaries, owners and land register entries including Section Section II from ALKIS/ALB data
Interfaces to Civil3D, QGIS, AutoCAD, SCOUP and GEOGraf
Import and export of inventory data with manual column selection in Excel
Reference numbers, owner numbers and sheet sections can be imported into the project via Excel file formats or assigned manually
Generation of documents and serial letters via queries from the database
Quick overview of negotiation status and correspondence through tables with adjustable columns and categories
Owner numbers and personal data linked to address book; this makes duplicates mergeable
Detailed search functions make it easier to find datasets
Persons and parcels can be edited by mass change
Would you like more details, literature or an offer?